Tacloban City, Philippines–With the maternal mortality rate (MMR) posing a significant challenge in the Philippines, global health leader Philips is ramping up its efforts to make quality maternal care accessible to more Filipino communities.
Earlier this year, Philips, a global health and wellbeing company, entered a partnership with the FriendlyCare Foundation, an innovative private sector family planning organization, and Peace and Equity Foundation (PEF), a social impact investor in the Philippines, to build the FriendlyCare Birthing Home and Family Health Clinic in Tacloban.
Through this collaboration, Philips seeks to help the Philippines address different healthcare challenges which include the lack of adequate healthcare infrastructure and outdated healthcare systems in various communities.
"Helping a community is always a collaborative effort, and working to provide accessible, quality maternal care is no different," said Malone Guevarra, Philips General Manager for Healthcare. "By making sure that there are enough facilities for maternal care and providing each of them with adequate technological support, we can make great strides in reducing maternal deaths in the Philippines."
According to a report by the United Nations Development Program (UNDP) on the Millennium Development Goals (MDGs), developing regions have little to no access to quality maternal care. UNDP statistics show that in rural areas, only 56 percent of births are attended by skilled health personnel, and only 50 percent of pregnant women receive the recommended minimum of four antenatal care visits.
World Bank data show that the MMR in the Philippines is 114 per 100,000 live births in 2015---still a far cry from the Philippines' Millennium Development Goals set by the United Nations, to reduce maternal deaths to 52 per 100,000 live births by 2015.
Collaborative efforts
The FriendlyCare Birthing Home and Family Health Clinic aims to provide accessible and quality maternal care to mothers in Tacloban, a city still recovering from the destruction wrought by Typhoon Yolanda, one of the strongest typhoons in history. Because of a recorded increase in the number of pregnancies in post-Yolanda Tacloban, the need to deliver maternal care services has become much more pressing.
"Delivering accessible healthcare is an important step to address the issue of maternal mortality, but it is also important that families receive guidance and attention from skilled health personnel," said FriendlyCare President Tess Panganiban. "Through this clinic, we will be able to care for expectant mothers and guide them through the different stages of pregnancy, childbirth, and beyond."
For PEF Partnership and Programs Manager Ric Torres, funding the clinic is an opportunity to develop an enterprise that is both valuable and transformational to the Tacloban community. "PEF supports this partnership as we seek to build business models in the area of health care that are social enterprise-driven, especially given that maternal health care is one of the millennium development goals of the Philippines," Torres said.
Personnel from the FriendlyCare Foundation are handling operations in the clinic, which already provides prenatal check-ups for expectant mothers in the community. For technological support, Philips is initially equipping the clinic with equipment for for prenatal checkups and lie-ins: an ultrasound machine, an ECG monitor, and a fetal monitor. Within the year, the clinic is expected to have complete primary care facilities.
Guevarra said that as a leader in health and wellbeing, Philips is committed to delivering innovations that matter and that help health workers care for their patients. "The design and technology behind Philips' healthcare solutions help health workers get comprehensive clinical information so they can make sound decisions concerning the welfare of their patients," explained Guevarra.
The clinic in Tacloban is a test-bed to building up a new model of clinics that can be rolled out across the country for under-served communities.  The partners aim to build four (4) more clinics by 2019 that will address the specific healthcare needs of each targeted community.
The clinic launch on December 8, 2015 was marked by a ribbon cutting ceremony, a motorcade, family planning couseling sessions and a talent showcase featuring song and dance numbers by pregnant women in the community.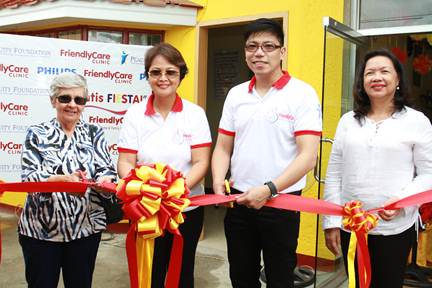 COMMUNITY-BASED MATERNAL CARE Representatives from Philips, FriendlyCare and the Tacloban City Health Office cut the ribbon during the launch of the FriendlyCare Birthing Home and Family Health Clinic in Tacloban. The newly-opened clinic seeks to help expectant mothers in Tacloban, where the number of pregnancies increased after Typhoon Haiyan hit in 2013. Earlier this year, Philips, FriendlyCare, and the Peace and Equity Foundation entered a partnership to build a chain of clinics in Filipino communities where quality maternal care is not easily accessible. Philips is providing healthcare equipment for the clinic, including ultrasound, fetal monitor and ECG. The collaboration seeks to reduce the number of maternal deaths in the Philippines. Seen cutting the ribbon were (left to right): FriendlyCare Foundation Board of Trustees Chairman Maribel Ongpin, FriendlyCare Foundation President Teresita Panganiban, Philips General Manager for Healthcare Malone Guevarra, and Tacloban City Health Officer Dr. Joedylyn Gumagay.