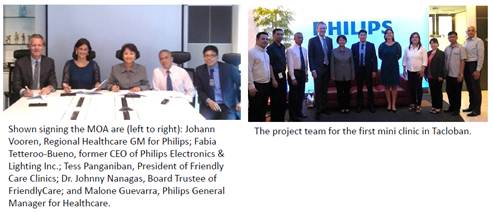 Manila, Philippines – Philips has entered into a joint undertaking with the Peace & Equity Foundation (PEF) and social healthcare provider Friendly Care Foundation Inc. to address the gap in accessible primary and secondary healthcare by establishing accessible and affordable care clinics throughout the country. 
Kicking the partnership off with the construction of its first mini-clinic in post-Haiyan Tacloban City, the alliance seeks to build on FriendlyCare's clinical expertise, augmented by PEF funding alongside additional financial and technological support from Philips. 
"It's a great start, but it's only the beginning," says Philips' General Manager Malone Guevarra. "I look forward to the progress we make together in bringing healthcare to another level in many parts of the Philippines, where it is needed so badly."
Addressing a need 
According to Guevarra, a program like this is necessary in an economic climate that leaves many in need of accessible healthcare, including those living in urban areas. "It's an eye-opener, and Haiyan was a trigger point," Guevarra says. 
In late 2013, megastorm Haiyan (known locally under the name Yolanda) devastated much of Eastern Visayas, crippling most basic services and leaving many without adequate medical care. Tacloban City, still recovering in the wake of the disaster, was one of the hardest hit and has since been a key point in the region's relief operations. 
Now that the first wave of relief along with qualified healthcare personnel are leaving Tacloban and the country, FriendlyCare President Tess Panganiban says that it is imperative that measures are taken to ensure that the region's medical needs are adequately addressed in spite of the region's compromised infrastructure. A key observation made was the rise in the need for adequate mother and child care in the area after the typhoon, thus the decision to have the first mini-clinic focus initially on becoming a birthing home/ lying in clinic before eventually completing its primary care facilities.  
PEF Partnership and Programs Manager Ric Torres adds, "PEF supports this partnership as we seek to build business models in the area of health care that are social enterprise-driven, especially given that maternal health care is one of the millennium development goals of the Philippines." 
The first clinic will be called the FriendlyCare Birthing Home and Family Health Clinic and will initially have Philips equipment such as ultrasound, ECG and fetal monitor, among others. The clinic will be run by expert FriendlyCare personnel.
A sustainable future 
Panganiban also makes it clear that they are in this for the long haul. "The objective is to eventually build a social enterprise – an organization that serves the mission, and that is also profitable, sustainable, replicable,"she says. 
Guevarra adds, "This is an opportunity to truly improve people's lives and create meaningful innovation in Tacloban. It is a vision all the partners share and we are glad to finally see this coming to fruition." 
The first mini-clinic is expected to be operational within 2015. Philips, PEF, and FriendlyCare hope to take the clinic partnership to more parts of the country after the establishment of the Tacloban facility, with a focus on the unique healthcare needs of each area