Philips guarantees consumers that its LED lighting products offer long lasting and consistent brightness, savings on energy and cost, and guaranteed safety.
Partnership with photography club ties Philips efforts in sustainability with environmental awareness.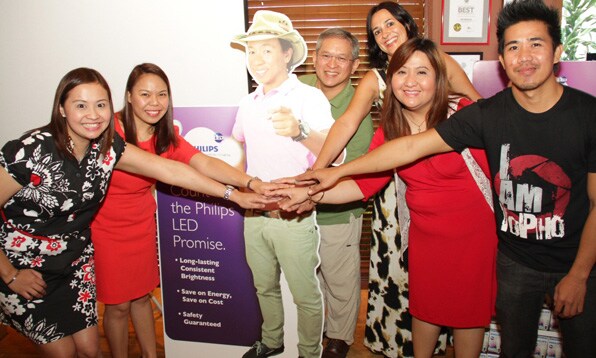 Philips teams up with WWF Philippines and the Young Photographers Club of the Philippines (YoPho) to raise awareness on how to make the Philippines a greener, more livable nation through its LED lighting products. From left to right: Gela Isidro, Philips Corporate Communications Manager; Christine Villanueva, Philips Country Marketing Manager; Jose Ma. Lorenzo Tan, Vice Chairman and CEO of WWF Philippines; Fabia Tetteroo-Bueno, Philips Country Manager; Rhona Arce, Philips Consumer Marketing Manager, and Anton Carranza of YoPho.
Manila, Philippines – Philips Lighting Philippines is set to kick off its LED campaign on May 4, 2013 at the SM Mall of Asia. Entitled "The Promise of a Greener World", the campaign aims to emphasize how using LED lighting solutions can help reduce the Philippines' carbon footprint, and avert the drastic effects of global warming.
The event, to be hosted by popular TV host Suzi Entrata-Abrera, will feature Philips' latest range of LED lighting products, together with its newest Brand Ambassador, popular TV personality and triathlete Kim Atienza.
"Philips LED lighting solutions are not only energy-efficient but also provide a superior quality of light. With this campaign, we hope to share with consumers the facts about LED lighting solutions and encourage them to make the simple switch to sustainable lighting solutions that is environmentally-friendly," said Fabia Tetteroo-Bueno, Philips Country Manager and General Manager for Lighting. "Philips Lighting is a strong advocate in environmental sustainability with our commitment to green manufacturing and solutions. That is why we decided to work with Kuya Kim to help spread the sustainability message as he is a strong advocate to make the planet a better place for current and future generations."
Running concurrently with the product launch is an environment-themed photo exhibit, which features the images captured by the finalists of an online contest that Philips conducted in partnership with the Young Photographers Club (YOPHO). "Our group is honored to have been chosen by Philips as a partner for this noble initiative. We hope that we were able to underscore the importance of preserving the environment through our photos, and encourage everyone to do their share in conserving our resources," stated YOPHO president Daniel Formoso.
The World Wide Fund for Nature Philippines (WWF Philippines) also supports Philips in its LED campaign. "For three years, Philips has been supporting Earth Hour and our various energy efficiency initiatives. This new LED campaign helps Pinoys go beyond the hour to save the planet, one LED bulb at a time," said Jose Ma. Lorenzo Tan, WWF Philippines Vice Chairman and Chief Executive Officer.
Recognized as a world leader in lighting, Philips also strives to educate consumers on the ideal characteristics they should look for in good quality LED lighting products. "Aside from making consumers aware of the many benefits they can get from using LED lighting solutions, we want them to understand that they need to choose good quality LED lighting products to maximize the product's potential," said Tetteroo-Bueno.
Philips lists down three key items that good LED lighting products must possess: long lasting and consistent brightness; savings on energy and cost; and guaranteed safety. In addition, Philips LED lighting solutions are at mainstream prices, to help make the shift from traditional bulbs to LED lights much easier.
Philips will be holding LED fairs in key malls across the Philippines, in order to bring the importance and benefits of using LED lighting solutions closer to consumers.
For more details about Philips and its LED campaign, please visit www.philips.com.ph or www.facebook.com/PhilipsLEDPH.