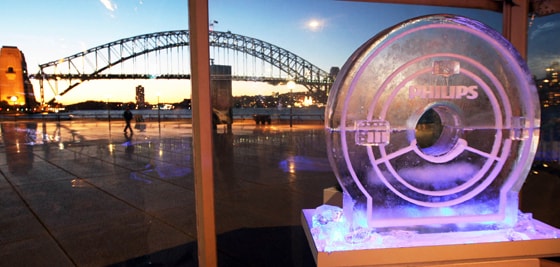 Sydney, Australia – This past weekend, Philips hosted leading local and global diagnostic imaging experts in Sydney, Australia at its 5th Asia Pacific High Field Symposium.  Delegates from 16 countries congregated in a rare opportunity to attend presentations and discuss technique advancements by a world class faculty of speakers sharing experiences in clinical excellence in the area of high field magnetic resonance imaging (MRI).

Luminary speakers at the three-day symposium included Dr Ron Shnier from Diagnostic MRI Services in Australia, Prof Sunaert from Leuven University in Belgium, Dr Gillian Newstead from the University of Chicago, Prof S.K. Lee from Yonsei University in Korea, and Prof Noriko Oyama from Hokkaido University in Japan. The 5th such event held in Asia Pacific is designed to encourage collaboration and dialogue throughout the region to ensure best-in-class clinical practice is shared and helps Philips further develop meaningful innovations in MRI enabling better treatment outcomes for patients.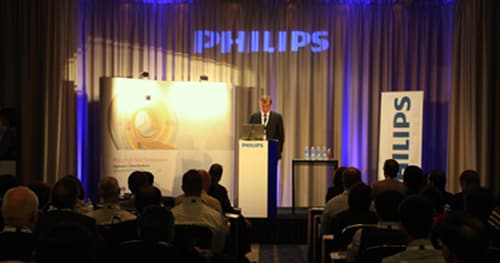 Changes in the field of MRI such as the introduction of the high powered, multi-transmit Philips Achieva TX 3.0 MRI have enabled doctors and researchers to go beyond normal imaging protocols. Initially used for neuro and musculoskeletal imaging, where high signal provided high image quality with high resolution and speed, High Field 3.0T MR imaging is now also becoming the system of choice for breast, body and cardiac imaging.
"As advancements accelerate in the area of High Field MR imaging Philips is committed to ensuring best-practice MR techniques are shared via events like the Asia Pacific High Field Symposium to ensure better treatment outcomes for patients," said Johan Vooren, Senior Director, Imaging Systems, Philips Healthcare Asia Pacific.  "For example, we've learned from our users about how new techniques in cartilage imaging and advancements in coil technology promise to provide doctors with early indicators of disease states and therapy effectiveness to enable prevention or efficient therapy."
Another example discussed at the symposium was the intelligent use of MR imaging together with High Intensity Focused Ultrasound (HIFU) which allows doctors unprecedented positioning and temperature monitoring to treat fibroids in women via an ultrasound ablation technique.  By using MR imaging as a precursor to the HIFU therapy patients are treated quickly in a day procedure setting, avoiding the risks of surgery and often lengthy recovery times.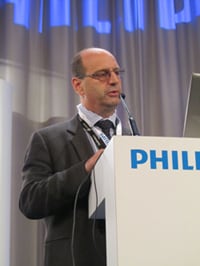 As part of the program, delegates were also given the opportunity to view a live scanning session via satellite link, at Dr Shnier's facility in Sydney. His 3.0T TX Philips Achieva MRI system is equipped with the unique multi-transmit RF technology that overcomes the challenges that high field MRI faces whilst decreasing the time taken to scan. The demonstration highlighted speed and image quality improvements in spine and abdominal imaging.

Speaking at the symposium, Dr Ron Shnier, Director Diagnostic MRI Services and President of the Australia Diagnostic Imaging Association said, "I took delivery of the first 3T High Field MRI in the Southern Hemisphere in 2003, from Philips Healthcare.  Since that time technology developments from industry coupled with clinical insights resulting from increased demands from radiologists have delivered advancements, improving patient outcomes through better diagnosis."

"In my own practice we have provided improvements in prostate imaging which has helped improved tumor staging, diagnosis and treatment pathways and ultimately patient management. In the future, the use of MRI guided treatment will allow for more non-invasive procedures such as ultrasound ablative therapies of uterine fibroids and possibly prostatic tumors," said Dr Shnier.